Eric Finn Custom Clothiers came by today to do the final fitting of my custom tailored suit.. IT LOOKS AMAZING!
Guess I should have taken a picture of it while the suit was on me, but it was chalked up in a couple places to go back to get tailored a little more.. just so that it's extra perfectly fit to my sexy body (had to throw that in there).
I'm so excited to go on business meetings now, and I think I might have to buy another suit from him as well..
Oh, did I mention that they hook it up with shirts to go along with these suits.. custom fitted shirts that is.. with your initials embroidered in there (and the suit has your whole name embroidered on the inside)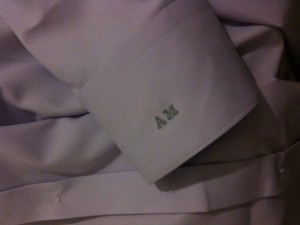 More pictures to come when I get the finalized suit and put it on.. I'll probably have a photo shoot done haha — YES!
Thank you Eric Finn!