I get it, you want to play youtube videos and do other things on your iPhone.
Ever time you start a youtube music video and try to do something else, it stops playing. Very annoying.
This is how to play youtube videos in the background while you multitask on your iPhone.
(requires iOS4+ .. if you have an iPhone 4, this will work… if you keep your 3G or 3GS updated with apple's latest software, this will work… OTHERWISE: sorry)
Learn more about iOS4 features here.
How To: Play a YouTube Video in the Background of iPhones
Here is a step by step guide to playing a youtube video while doing other things on your iPhone.
The youtube video will play in the background much like the iPod app or Pandora app plays in the background while you text, use the maps, check out your calendar or the weather.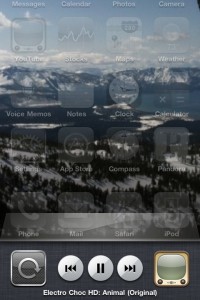 Open the youtube app & find your favorite video
Let the video load to the point where it starts playing
Press the home button
Double click the home button to bring up multitasking
Swipe to the right to find the media buttons (rewind/play/pause/forward)
Press the play button
MULTITASK! – go text, map, whatever your heart desires!
That's it!
Yet Another Way To Multitask YouTube Music Videos!
Alternatively, you can:
Start playing a youtube music video (like steps 1-2 above)
Press the home button
Lock the iPhone
Click the home button once to show your background – then double click the home button to bring up the media controls on the locked screen
Press play – since the last piece of audio you played was the youtube video, that will start playing
Unlock your iPhone and MULTITASK – since you locked your iPhone from the home screen, you return to the home screen with the youtube video playing in the background and you're free to do whatever you want!
That's all there is to it – play youtube in the background on your iPhone by following those easy steps above!
Hey, did you know your can play snake on youtube videos?
If this helped you – let me know in the comment box below!