Today is July 1st, 2010 – the first day of the 3rd quarter of 2010… that means 2010 is already half way over and done with!?
That's CRAZY! I feel like 2009 was just yesteraday, and we are already half way to 2011? How is this possible?
Time flies when you're having fun? Time flies when you're busy?
Am I busy and having fun? — Actually, yes – WebMechanix is very fun and definitely picking up steam… which makes me uber busy.
Anyhow, I'm making a half-year resolution:
I will be a a better human being.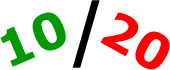 I know you're saying, what does that mean… well I'll tell you:
Cut back on drinking
Be more transparent with my emotions
Living by a "How may I serve you" mentality
Become more active
That's NOT to say…
…I wasn't active before… and I'm not just talking gym and sports, you might find me volunteering and donating to charities 🙂

…I'm going to put people ahead of myself (until I find "the one")

…I'm going to stop parting
Anyway, life is good – and I want to make it better… don't hate – congratulate.
What are you doing to make your life and the world a better place?